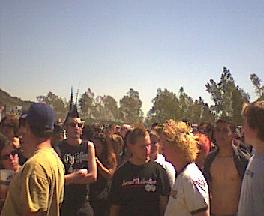 My interview with Colin Abrahall of G.B.H. was scheduled for 11:30 am and it went off with out a hitch. We talked, laughed and had a general good time. They were really cool guys and it was a pleasure to talk to them. All during the interview, Colin was drinking from a water bottle that did not contain water. From the color, I would guess that it was gin & tonic or something of that nature. After the interview we got some promo shots and photos of Chris and me with Colin and Danny. (Click Here for Interview.)
Chris spent most of his day taking photos and video of the bands while I wandered through the crowds, checked out the bands for my reviews, and shot photos of the people that were there. I also checked out merchandise, food, and the other hawker's booths.
The show itself was billed as a low dough show, and with 17 bands for only 35 dollars (plus Ticketmaster's fee) it definitely qualified as such. But inside it was a rip off.