Emo went to the ticket counter and got a seat ten rows in front of us in the center section. The Rock & Roll gods were smiling on us again. (Click here for seating chart.)
Christophe and I had to go in through a separate press gate. We said our goodbyes and split up with the rest of our crew.
(This was the last we would see of the whole crew for the rest of the day. Jamie and Mark took off and weren't seen until it was over. Chris and I saw Jeremy and Joey later on as we found our seats late in the day. Emo and Joey hung out together until around the time the Damned played and they went to their seats.)
Chris and I hopped a V.I.P/Press cart to the far entrance of the venue and the Press area. It was located between the two stages.
I went up to the "will call" window and asked for my passes. The girl looked under my name and under G.B.H. She said that she found nothing, but not all of the bands had turned in their stuff yet. So, we waited about a half hour and a box full of envelopes arrived. I checked again and still nothing for me.
At this point I was a bit nervous because we had come so far and had so much gear with us, and it looked like we weren't going to get to do it.
I called the contact number I was given and all was made right. Within ten minutes we had press passes, an extra ticket, and a comfy seat in the press tent.
We got a couple of bottles of water and relaxed. We had about twenty minutes until the interview to get our stuff together.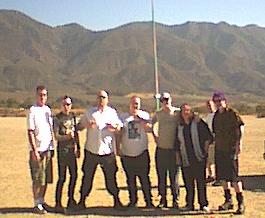 (L - R): Mark, Lamie, Tom,
Jeremy, Joey, Emo, & Chris