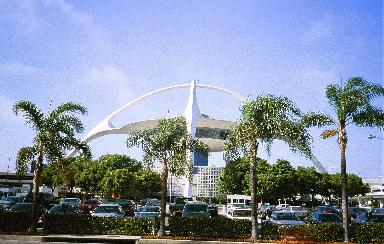 We arrived in L.A. and went to pick up our car. We took a cab from the LAX to the Thrifty Car Rental joint. When we got there, the power was out. I asked if it was caused by the rolling blackouts and they laughed.
The rental guy informed us that they no longer had any full size cars for us and asked if we would take a minivan at the same rate. We agreed and were on our way.
We turned on the radio and put on KROQ. Within minutes they were playing the Sex Pistols in a rock block and they announced that the show was SOLD OUT! Emo did not have a ticket, but we had planned for this. Her plan was to get a ticket that would be released day of show that normally would be held by season ticket holders. If the owner does not reserve them, the tickets are sold on a first-come/first-served basis. (This happens at most "Sold Out" events.)
We followed our directions with me in the navigator's seat and in about two hours we were at our motel: Super 8 on Hospitality Lane in San Bernardino. The motel was clean, the staff was friendly, and the price was very affordable. The pool was small but cool. They even offer a free Continental breakfast.