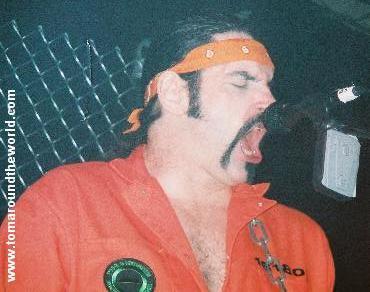 Many people consider them Goth, and many consider them Metal, but the members of Type O Negative don't think of themselves as either. The band combines the elements of both and produces something that is neither.
Type O Negative formed in 1990 out of the remnants of thrash band Carnivore.
Type O Negative is made up of vocalist/bassist Peter Steele, whose deep vampire-like voice is unmistakable, and features guitarist Ken Hickey, keyboardist Josh Silver, and drummer Johnny Kelly.
The band has released five studio albums, including their newest release entitled Life is Killing Me, on Roadrunner Records.
The stop in Syracuse at the Bridge Street Music Hall was the opening night of the five week tour that the band is Co-Headlining with Cradle of Filth who were a huge hit at the 2003 OzzFest. C.O.F. was not at this show, they would join the tour two nights later.
It is not often that a cool band like Type O Negative opens up their concert tour in Syracuse, so this was a lot of fun.
Being there early for the soundcheck was cool, as I got to see the stage crew putting together the final aspects of the show. The stage was set up to look like a prison workout yard, required chainlink fences and sirens and lights to be placed all around the stage.