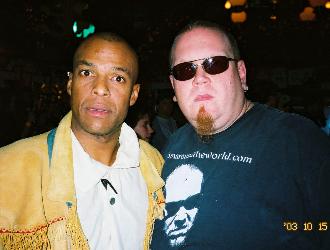 Fishbone's Angelo Moore with Tom.
Formed in Los Angeles in 1979, Fishbone combined the manic jumpiness of Ska with the volatile energy of Punk, added a heaping helping of Funk, a fistful of Metal, and then threw in a Theramin for good measure to create a recipe for success like nobody had ever heard before.
On top of that, the band's goofy sense of humor and sharp social commentary drew them a cult crowd that would be the envy of many bands.
Early in their career, some tried label Fishbone a ska group incorporating other styles, but the band's stew of funk, soul, punk, metal, jazz, reggae and seemingly everything else musical is far more distinctive — and exciting — than simple categorization allows.
At one point during the late 80's, Fishbone was considered "THE Band to See Live." Their high-energy shows and great musicianship were the talk of the nation. They inspired many bands including Sublime, Porno for Pyros, and Infectious Grooves.