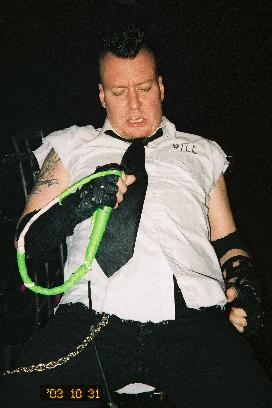 KRZTOFF doing his thing on Halloween.
BILE is not a band. BILE is an audio visual experience of anger, the roach under your sandwich, the turd in the punchbowl, the boy in the plastic bubble breathing a constant flow of Amal Nitrate. BILE IS ALL WRONG.
BILE was spawned in the bowels of the NYC underground, and has been causing tinitus in listeners since 1992.
Once described as a "post-nuclear photo-negative opera under blacklight", BILE rejects the standards of mediocrity and is constantly mutating to give the unsuspecting concertgoer an over-the-top live show experience. Intense strobe lights, fog, blacklight and shadows set the stage for the band's nilhilistic, vicious music.
The touring band consists of KRZTOFF (songwriter as well as vocals, keys, guitars, programming, mixing, tape loops), R.H. Bear (Live Bass), and Dave S (Live Guitar, Lighting Director). KRZTOFF performs all the musical duties on BILE's recorded albums and he is also a featured member of the legendary all-star Indusrial band Pigface, appearing on the 2003 album "Easy Listening."
BILE has opened for the likes of Marilyn Manson, Korn, Gwar, Type O Negative, Pro-Pain and Stabbing Westward, and was featured on the Mortal Kombat Original Motion Picture Soundtrack. They also did a cameo "live-band" appearance in Twisted Sister frontman Dee Snider's cult horror film "Strangeland," and had a song on the film's soundtrack.
They have lately gained notariety for their cover of the J. Geils Band tune "Love Stinks" from their recently released cover album "The Copy Machine".
BILE is currently on tour with KMFDM and hitting major cities accross the country.
I caught up with them in Rochester, NY at the Water Street Music Hall and the show was intense to say the least. Bile was the perfect band to open this Halloween show. The spooky, and dark look of the stage and the LOUD, violent music really got the crowd pumped up. I have to admit that this was one of the loudest shows I have ever seen in a club and I've been to see Man-O-War!