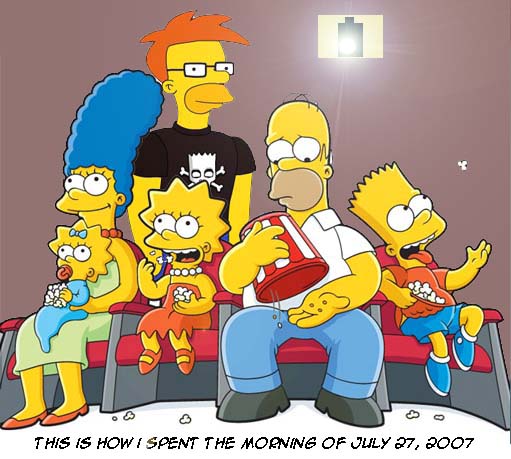 FOX's smash hit, The Simpsons, the longest running non-news program in American TV history, made its grand opening on the silver screen today.
The Simpson family, Homer, Marge, Bart, Lisa and Maggie, has come a long way from their humble beginnings as crudely drawn shorts on the Tracy Ullman Show. The popularity of the twenty second bits lead to a Christmas special and eventually their own weekly show which debuted on December 17, 1989.
The Simpsons has won dozens of awards since it debuted as a series, including 23 Emmy Awards, 22 Annie Awards and a Peabody. On January 14, 2000 the Simpsons won a star on the Hollywood Walk of Fame.
In a 1998 issue celebrating the 20th century's greatest achievements in arts and entertainment, Time magazine named The Simpsons the century's best television series.
In that same issue, Time named Bart Simpson to the Time 100, the publication's list of the century's 100 most influential people. Bart was the only fictional character on the list. In 2000, Entertainment Weekly magazine TV critic Ken Tucker named The Simpsons the greatest television show of the 1990s.
In 2002, The Simpsons ranked 8 on TV Guide's 50 Greatest TV Shows of All Time. Furthermore, viewers of the UK's BBC Channel 4 have voted "The Simpsons" at the top of two polls: 2001's 100 Greatest Kids' TV shows, and 2005's 100 Greatest Cartoons, with Homer Simpson voted into first place in 2001's 100 Greatest TV Characters.
In March of 2006, the show was renewed for a 19th season due to be aired in 2007–2008, premiering on September 23, 2007.
In May 2007 The Simpsons reached their 400th episode at the end of the eighteenth season.