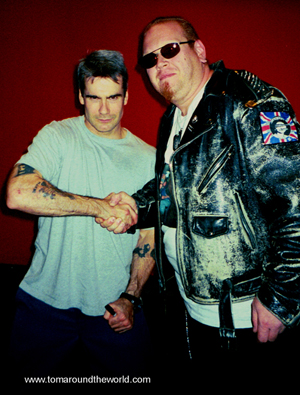 Henry Rollins with Me @ The Red House
Sometimes life is funny... Not funny "ha ha," but funny weird. My meeting former Black Flag frontman/Rollins Band frontman/Punk Rock Poet-turned-actor Henry Rollins was definitely a funny thing. I found out the day of his speaking engagement at The Red House that he would be appearing. I was completely pissed off that someone that was such an important influence on me was going to be three blocks from where I work and I knew NOTHING about it. Then, to make matters worse, I was scheduled to work and could not find someone to switch shifts with me. Life was really sucking...
I arrived at The Blue Tusk to work in a foul mood, but not for long. After about an hour, a friend came by and informed me that, due to a canceled flight, Rollins' speaking engagement would be postponed until the next night. I didn't belive him at first, but once I realized it was true I laughed and began to plot how to get to the show the following night.
The next night I still had to work, but life pulled another fast one on me. It turns out that my friend Logan Summit from the local radio station TK99 was on a guest list with my friend Dave Mirra. (Yes, THAT Dave Mirra...) Logan and Dave were unable to go to the show and Logan told me to use his name!!!
It was not that busy, so I talked the other bouncers into letting me leave for the show. I got to The Red House and they slipped me into the show only a few moments after Henry had started speaking. I got put into a GREAT seat right near the front and watched the show.
Henry read a few pieces of his poetry and then spoke about many topics including his trip to the Persian Gulf as part of a U.S.O. Tour in Iraq. He told us about flying in Apache helicopters, sleeping in one of Saddam Hussien's palaces, and how he impressed US troops when he survived his first mortar attack without even stopping an autograph signing session. His observations were sometimes angry and at other times funny, but always poigniant.
One of my favorite parts of the show was his frank and heartfelt discussion of his last visit with Johnny Ramone a week before his death. Henry talked with him about the tribute that was coming up at the time and about the times that they had played together, and then watched the Ramones documentary with Johnny before leaving. It was a very moving story.
After he was done speaking, I got to chat with Henry for about five minutes as we took a few photos. I thanked him for being a huge influence on me and my musical career and shook his hand one last time. Then, his people whisked him out the side door and he was gone.