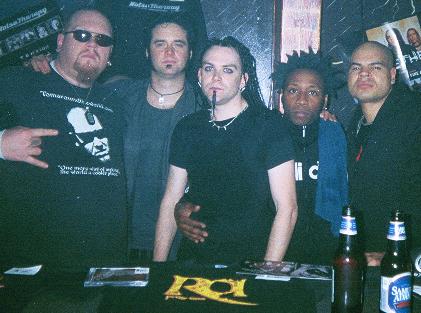 Tom with Ra.
The sun god. Every religion has one in some guise or another. Think life force. Think birth, death and resurrection. Think all-consuming passion. The ancient Egyptians called theirs RA. It's a fitting name for a band, especially one that generates such passion with its dynamic, multi-dimensional sound.
"Do You Call My Name" marked the beginning of RA's rise. The song reflects facets of the diverse cuts that make up FROM ONE. It's exotic yet familiar, heavy yet funky, direct yet sophisticated, sensual yet soulful, unrelenting yet cathartic. It takes only one listen to realize that the question in the song's title is purely rhetorical, and the answer, of course, is "yes." Elsewhere, "Rectifier" combines eerie guitar atmospherics and peddling bass and guitar rhythms that burst into a cloudscraping vocal melody. The aptly named "Fallen Rock Zone" marries raga-esque guitar runs with a stuttering riff tattooed by Skoota's deft snare work and Sahaj's ganged vocals. And the aching "On My Side" chimes to life, gradually climbing to a windswept chorus that's bound to produce classic lighter-waving moments in concert. It's a varied collection of songs, for sure, and yet it all sounds unmistakably.
Lyrically, Sahaj excels at writing "perspective songs." He gets inside the heads of characters and unlocks the doors that hold back so many people. Not surprisingly, his lyrics feature recurring prison imagery. On "Rectifier," he sings, "I'm stuck on a chain with no linkage, a vagrant lover prisoner." On "Do You Call My Name" he sings, "Nothing ventured nothing gained. You see your fear is your cage."