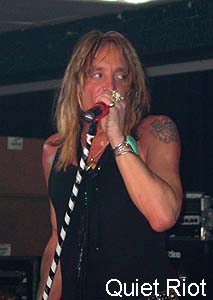 The abusive behavior also began wearing on his band mates, and by the time they re-grouped to launch a comeback with 1986's QR III, Sarzo was long gone (later joining Whitesnake) and had been replaced by former bassist Chuck Wright, most recently working with Giuffria. A failed experiment in ultra-glossy '80s metal, QR III was a third-rate Hysteria possessing none of its predecessor's blue-collar grit and became an even bigger flop, sending Quiet Riot into an irreversible tailspin.
Mounting tension resulted in an all-out band mutiny at tour's end, with DuBrow finding himself abandoned at the hotel in Hawaii, while the remaining musicians and crew left on an earlier flight back to L.A.
Fed up with DuBrow's antics, the rest of Quiet Riot fired him from his own band and replaced him with former Rough Cutt vocalist Paul Shortino. Wright was also fired and was replaced by Sean McNabb. The band released Quiet Riot in 1988, which was another failure. This 1988 album technically has the same name as their original first album with Randy Rhoads. The album's absolutely abysmal sales offered little consolation, and the band fell apart after a tour that ended in Hawaii in 1989 and DuBrow fought to keep control of the name. DuBrow finally gave up on diplomacy and filed an injunction against his former colleagues (apparently he still owned rights to the name), successfully bringing Quiet Riot to a stuttering halt. Frankie Banali said "good riddance" and jumped ship to join L.A. shock-metal kings W.A.S.P.
By 1991, tempers had cooled enough for the former bandmates to communicate. DuBrow and Cavazo formed Heat, but eventually switched to Quiet Riot again and released Terrified (1993) with Banali and bassist Kenny Hillery. That same year, DuBrow released The Randy Rhoads Years featuring tracks from Quiet Riot's Columbia albums and some previously unreleased material (many of which featured newly recorded vocals). Hillary left in 1995 and committed suicide on June 5, 1996 at the age of 26. Chuck Wright rejoined Quiet Riot to play bass.
The band released Down to the Bone that same year. The following year (1996), the band released a "Greatest Hits" album, which included nothing from the original two Rhoads albums and nothing from the two 90's albums, but did have a few tracks from the 1988 Shortino album. After that, Rudy Sarzo joined up again in 1997, and the band began touring.