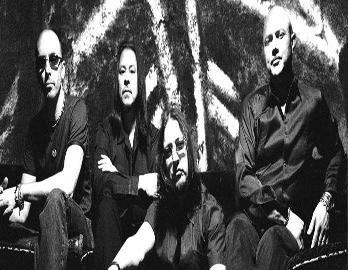 Scott Rockenfield, Eddie Jackson, Michael Wilton, & Geoff Tate.
The band Queensrÿche was formed in Bellevue, WA in 1982 and have been going strong ever since. The band gained a strong reputation as a thinking man's metal band. Their intellectually stimulating lyrics and music have won the band a devoted following of fans from all over the world.
Where their musical peers drew their inspiration from the likes of Van Halen, Aerosmith, and Kiss, Queensrÿche constructed a progressive form of heavy metal that drew equally from the guitar pyrotechnics of post-Van Halen metal and '70s art rock, most notably Pink Floyd and Queen.
After releasing a handful of moderately successful albums, Queensrÿche began to break into the mainstream in 1988 with the album Operation: Mindcrime. Their 1990 release, Empire, was the group's biggest success, selling over two million copies due to the hit single "Silent Lucidity."
Tribe, the ninth album released by the band, takes an unblinking, critical look at America and the state of the post-September 11th world. It is not shy about pointing fingers, exposing hypocrisies, or simply asking the listener to stop, take a deep breath, look at what is going on around them, and to think about what is happening to humanity.
Tribe also marks the writing and recording return of original guitarist Chris DeGarmo, who left the band in 1997 after the release of Hear In The Now Frontier.