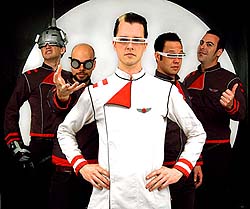 The Phenomenauts (L-R):
Corporal JoeBot 2.0: Vocals, Guitar
Captain Chreehos: Bass, backing vocals
Professor Greg Arius: Synth, backing vocals
Major Jimmy Boom: Drums, backing vocals
Commander Angel Nova: Vocals, Guitar
Cadet Dawn and I were restless and wanting Spring. Unfortunately for us, the weather in the Syracuse quadrant is unpredictable at best and clouds obscure the system's main star most of the time. The stifling boredom of the quadrant was affecting our crew in strange ways. We would often find ourselves in the recreation area of our outpost watching TV. Most TV transmissions are sketchy with not much more than bottom-feeder content.
The boredom was crushing down on us with the pressure of a Black Hole.
Later, while checking the Internet, I saw that The Phenomenauts were coming to Syracuse and the boredom seemed to melt away. I was chomping at the bit to see them live.
Imagine if the The Kinks, Devo, Stray Cats, and The Ventures were galactic pioneers and joined forces to defend Earth's Right to Rock. Combine that solid songwriting and a smart Sci-Fi theme and you've got one of San Francisco's most talked about bands.
The Phenomenauts combine a fast driving blend of Rock and Roll, Pop, Punk, New Wave, and Rockabilly along with a futuristic science fiction theme, dubbing their style "Rocket Roll".
But, The Phenomenauts are more than a band; they are a lifestyle. They call their shows "Missions" and their fans "Cadets." The Cadets are considered part of the show. The band is known for their inventive and fun-filled live shows, which often include smoke machines, the Streamerator 2000, and various on stage theatrics.
The Phenomenauts set the tone for a rising subculture of fans that want less cynicism and more hope and anticipation for the future.
I requested an interview and had it approved. I couldn't wait.
I began counting off the days until April twentieth. Finally, the day of the show arrived.
I began the day by having breakfast with the lovely Cadet Dawn. When we finished, we were off to complete the day's missions.
mp3 Interview with
Com. Angel Nova




Official Website




Leave A Comment