OPENING BAND
Check Them Out: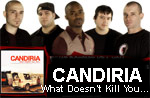 http://www.candiriamusic.com
Candiria were up next. Formed in Brooklyn, NY, the band's unique sound combines elements of grindcore, funk, hip hop and jazz. The band is touring in support of their latest album What Doesn't Kill You... which chronicles the band's near-fatal van crash, hence the album cover and liner notes. Candiria don't embrace the old, dull formula of the "metalcore" genre. They infuse their blistering riffs with snatches of hip-hop, jazz, dub, and melodic singing. Carley Coma's vocal approach varies from rap to hardcore shouts and growls. The more aggressive tracks are compelling maelstroms of dissonant riffs, rhythmic changes, and bits of psychedelic electronics. The crowd ate it up and the mosh pit was in full swing. It was a full-on SlamFest!
After their set, the band went to the merchandise table to sign autographs. They were really friendly and took the time to talk to their fans. I spoke with them and got a quick photo with Carley Coma and then went to see the next band.