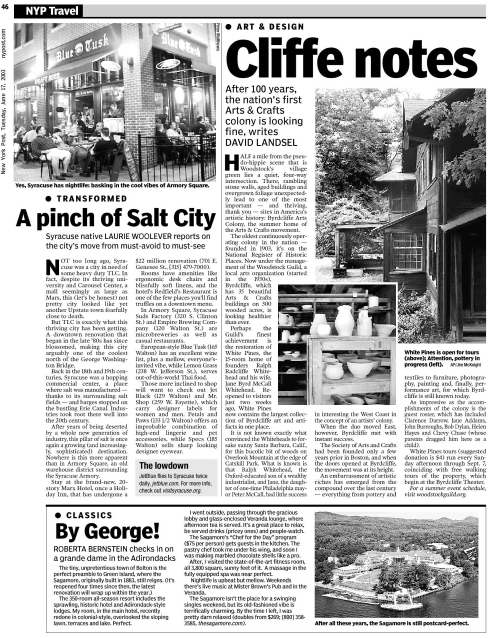 A pinch of Salt City
Syracuse native LAURIE WOOLEVER reports on
the city's move from must-avoid to must-see

NOT too long ago, Syracuse was a city in need of some heavy duty TLC. In fact, despite its thriving university and Carousel Center, a mall seemingly as large as Mars, this (let's be honest) not pretty city looked like yet another Upstate town fearfully close to death.
But TLC is exactly what this thriving city has been getting. A downtown renovation that began in the late '80s has since blossomed, making this city arguably one of the coolest north of the George Washington Bridge.
Back in the 18th and 19th centuries, Syracuse was a hopping commercial center, a place where salt was manufactured -thanks to its surrounding salt fields - and barges stopped on the bustling Erie Canal. Industries took root there well into the 20th century.
After years of being deserted by a whole new generation of industry, this pillar of salt is once again a growing (and increasingly, sophisticated) destination. Nowhere is this more apparent than in Armory Square, an old warehouse district surrounding the Syracuse Armory.
Stay at the brand-new, 20-story Marx Hotel, once a Holiday Inn, that has undergone a $22 million renovation (701 E. Genesee St., [315] 479-7000).
Rooms have amenities like ergonomic desk chairs and blissfully soft linens, and the hotel's Redfield's Restaurant is one of the few places you'll find truffles on a downtown menu.
In Armory Square, Syracuse Suds Factory (320 S. Clinton St.) and Empire Brewing Company (120 Walton St.) are microbreweries as well as casual restaurants.
European-style Blue Tusk (165 Walton) has an excellent wine list, plus a mellow, everyone's invited vibe, while Lemon Grass (238 W. Jefferson St.), serves out-of-this-world Thai food.
Those more inclined to shop will want to check out Jet Black (129 Walton) and Mr. Shop (259 W. Fayette), which carry designer labels for women and men. Petals and Paws (133 1/2 Walton) offers an improbable combination of high-end lingerie and pet accessories, while Specs (185 Walton) sells sharp looking designer eyewear.