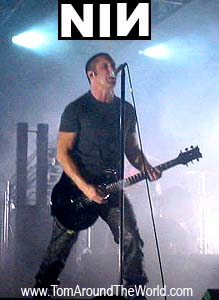 Nine Inch Nails… the name alone brings strange visions. Allegedly, it comes from the nails used to crucify Christ. Nine Inch Nails is arguably the most popular group in the history of Industrial music. The band is responsible for opening up the genre to a mass audience. It isn't really accurate to call NIN a group. The only official member is singer/producer/multi-instrumentalist Trent Reznor, who always remained solely responsible for NIN's musical direction.
Michael Trent Reznor was born May 17, 1965, in the small town of Mercer, PA. He went by his middle name to avoid confusion with his father Michael. At age five, Reznor's parents divorced and he wound up being raised by his maternal grandparents. He began playing the piano at age five, studying classical music, and later learned tenor sax and tuba in the school band; he also acted in musicals and became an avid Kiss fan.
After spending a year studying music and computers at Allegheny College, Reznor dropped out and moved to Cleveland with high school friend Chris Vrenna to pursue music full-time. At age 19, he successfully auditioned to join an AOR band called The Innocent, which released one album, Livin' in the Streets (Reznor's picture does appear on the jacket). He quit the Innocent after just three months and subsequently gigged with local bands. He also worked in a keyboard store and as a janitor in the local Right Track recording studio. Eventually, he became a studio engineer, teaching himself various computer applications and working on his own material during off hours.
Unlike the vast majority of industrial artists, Reznor wrote melodic, traditionally structured songs where lyrics were a focal point. His pop instincts not only made the harsh electronic beats of industrial music easier to digest, but also put a human face on a style that usually tried to sound as mechanical as possible. While Ministry crossed over to heavy metal audiences, NIN built up a large alternative rock fan base right around the time of Nirvana's mainstream breakthrough.
In 1987, Reznor appeared in the Michael J. Fox/Joan Jett film Light of Day, where he played keyboards with a trio dubbed The Problems during a bar scene.