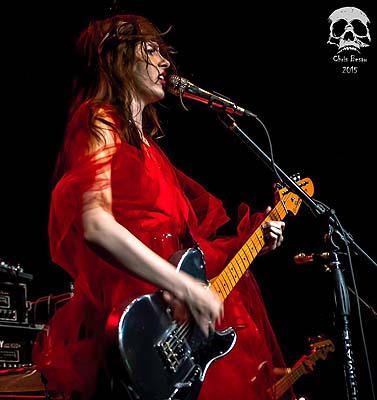 The Melvins Return to The Salt City
Article by Tom Carpenter - Photos by Chris Besaw
I first saw the Melvins back in the day, on tour with GWAR. I saw them again with White Zombie. They came to Syracuse in 2013, but I was in California and was not able to go. They were playing with two drummers then, and from what I heard from my drummer, and others, was that it was a sight to behold.
In 2014, King Buzzo toured in support of his acoustic album "This Machine Kills Artists" and made a stop in Syracuse, where I interviewed him.
The current line-up of The Melvins is a three-piece consisting of Buzz Osborn on guitar, Dale Crover on drums, and bassist J.D. Pinkus, who also played with the Butthole Surfers. I was excited to hear they were returning to Syracuse to play the Westcott Theater.
It had been a few months since I had been to The Westcott and they have made a bunch of changes. The place looks really great and has a better flow.
I went out onto the new back smoking patio and bumped into Dale Crover and JD Pinkus. We smoked and chatted for a while. They are such nice guys! They headed in to get ready and as I was having another smoke, the opening band began to play. I snuffed out my cigarette and got to work...
Opening the show was Le Butcherettes, a three piece band from Guadalajara, Mexico, made up of Terri Gender Bender, who is the vocalist and plays guitar and keyboards, Jamie Aaron Aux on bass and backing vocals, and drummer, Chris Common. The band is touring supporting their new album "Cry Is For The Flies" on Ipecac Records.
Le Butcherettes came onto the stage all dressed in red, with Teri Gender Bendar also wrapped in red tulle fabric. The music was mostly solid guitar-driven rock songs, and they had a few that were more keyboard heavy.