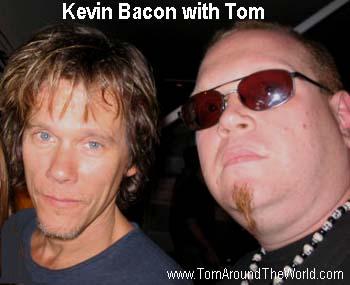 Tom Becomes a "First Degree"
Kevin Bacon is a Hollywood institution. Everybody has seen his movies. He is in sooooo many movies there is even a game called Six Degrees of Kevin Bacon where you have to link him to another celebrity in less than, you guessed it, six moves... Over the years, he has appeared in such diverse films as Animal House, Friday the 13th, Diner, The Big Picture, JFK, A Few Good Men, Wild Things, Stir of Echoes, My Dog Skip, The Hollow Man, Novocaine, and of course what is possibly his most famous film: Footloose.
As if all that wasn't enough, Kevin even plays in a rock band called The Bacon Brothers with his brother Michael. I know what you're thinking: "Oh great, another actor that thinks he can be a musician." But unlike many of his peers who try to cross over into music, Kevin and his brother Michael actually pull it off!
Michael Bacon is actually a very accomplished song writer. Jerry Lee Lewis, Carlene Carter, Perry Como, Peter Yarrow and Claude Francois are just a few of the artists that have recorded songs written by Michael.
More than ten thousand people turned out to see The Bacon Brothers perform in Clinton Square for the annual Taste of Syracuse festival and they were not disappointed.