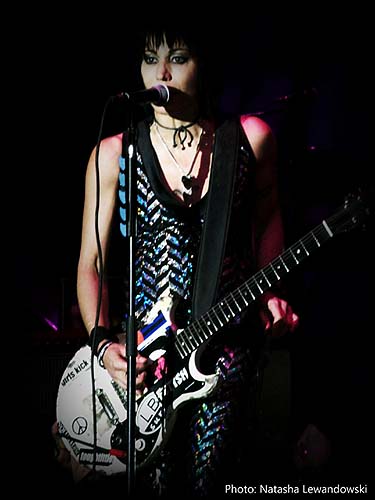 The introduction was made and Joan Jett hit the stage. Joan and the Blackhearts came out swinging! Right off the bat, they jumped into three classics: "Bad Reputation," "Cherry Bomb," and "Do You Wanna Touch Me?" The crowd was loving it.
Joan looked fantastic in a multicolor metallic jumpsuit. Joan never seems to get any older! My only complaint was with the cameramen that were shooting for the screen, so that those in the far back could see. Often, they would pull in for some EXTREME Close-Ups, and when they did, the illusion of agelessness was destroyed. The lines on Joan Jett's face became painfully obvious. But, don't get me wrong, she is still beautiful, and looking far better than many women of her age. And do NOT kid yourself for one second... Joan still rocks hard! She continued on with her set, and hard core fans sang along, obviously overjoyed with her performance. Songs included "TMI," "Soul Mates," "You Drive Me Wild," "Make It Back," "Fragile," "Love Is Pain," "Hard To Grow Up," "French Song," and "Any Weather." The final three songs were again, huge hits and included "I Love Rock & Roll," "Crimson and Clover" which is Joan's cover of the song by Tommy James & The Shondells, of whom her longtime friend and keyboardist: Kenny Laguna was a member. The final song was "I Hate Myself for Loving You."
The enthusiastic crowd screamed for more, and Joan Jett and The Black Hearts were happy to oblige with a three song encore that consisted of "Reality Mentality," "Wild Child," and Joan's rocking cover of Sly & The Family Stone's "Everyday People."
After the show, Joan thanked the crowd for coming out, and left the stage. They spirited her away quickly and she did not come out to Meet & Greet her fans and sign autographs as in other years.
I made my way over to the merchandise tent and got myself a Joan Jet & The Black Hearts t-shirt, before Dawn, Jerd, Dave, and I headed to the midway to get some tasty Fair foods, before calling it a night.
Dawn and I shared a Butterfly Potato with cheese on it, and I got a cheap hamburger to eat. Jerd also got a Butterfly Potato. I was amazed to see D-Klien not eat...LOL.
After that, we made our way to the far end of the Fair, past the Grandstand and through all the Carrie Underwood fans in their short shorts and boots and cowboy hats.
As we rolled past the State Police at the back side of the Grandstand, they joked with us that if we picked up the pace, we might catch the country star's bus. I laughed and told them, "We don't care about no Hairy Underwear, we were here for Joan Jett!" which made them bust out laughing, and they wished us a good night.
We made it back to the truck, loaded in the wheelchair and headed home. It took us nearly 30 minutes to get out of the parking lot, but once we did, we hit the highway and were home within 20 minutes.
Dave was waiting for us to crash at our house, and we all went to bed, happy with a good day.