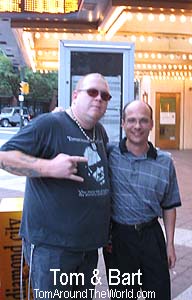 We tried to see if we could go in for it as well, but we were denied. We were told that it was only for people that had purchased a VIP Pass Package. So, unable to meet the Peroxide Prince, Jon and I chose to go grab some drinks and I needed cigarettes. We walked around the Public Square in downtown Wilkes-Barre, found a convenience store, got our stuff and decided to go to the big park in the center of the Public Square. There was a cool statue of Christopher Columbus and a beautiful fountain, as well as some cool sculptures. My favorite one was a long multi-piece stone sculpture of a snake that appeared to be swimming through water, which also functions as a series of benches. Also, there were some interesting bricks in the sidewalk that had silhouettes of Native Americans in them that were very interesting. We took photos of everything. (To see photos Click Here)
We went back into the lobby, but I realized that I had forgotten to bring buttons and "Fuck Bush" Bracelets for Billy Idol and Steve Stevens. I sent Jon Davis back to the van to grab some. On his way back to meet me, Jon saw Billy Idol get off of his canary yellow tour bus and head inside for the sound check.
After the sound check was finished, I was outside smoking and met a guy named Bart. He had attended the Meet & Greet, to which we had been denied… He allowed me to take photos of his autographed laminate. He told us that his passes had come from a VIP deal through the Billy Idol website for $250. It was the same thing that my friend Katie (a.k.a. Mara) had done for the Velvet Revolver concert that we went to in Scranton, PA.
We went back to waiting in the Theater lobby and were soon approached by a man who introduced himself to us as Tell. He worked with the tour manager. He told us it would be a few hours before our tickets would be available, so we had to wait until about 6:30. Tell also informed us that we would not be able to do an interview with Billy Idol, but Steve Stevens would be willing to talk with me, but it would have to be after the show.
He gave us his cell phone number, and then told us if we had any problems to give him a call and he would help us out. We thanked him and he went back to doing his regular job.