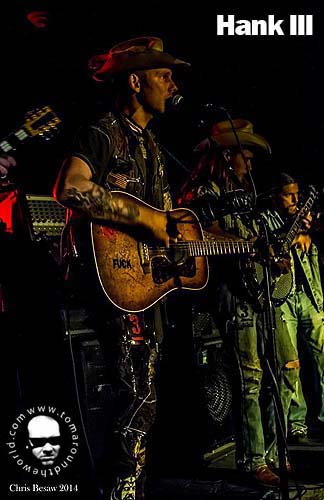 With his being so popular in so many genres of music, Hank 3 can REALLY draw a big and diverse crowd. When Dawn & I arrived at The Lost Horizon, we were startled by the number of people lined up outside the club. The line went from the front door, around the parking lot, and down the side street. It was a sight I had not seen at the club in years. (Don't get me wrong, there have been some big crowds for shows, but not like this.) I had not personally seem a line like that for any show at the The Lost since the 90's, when it was considered one of the Top 3 Clubs in the Northeatern US. (CBGB's in NYC and The Orphium in Boston were the other two.) It was amazing to witness it again. There were Country folks in cowboy hats, Punks in studs & leather, and long-haired Metalheads dressed in all black, old people and young, all waiting to see the same guy. Many wearing hank 3 shirts, or vests, or patches. This is proof positive that no matter what walk of life you come from, the love of the MUSIC brings us all together. I called Chris and let him know we were there, and then Dawn & I waited in line for a while, until I started to get a little nervous that we would not get in. My Press credentials were waiting for me at the door, so, I took advantage of that fact and Dawn and I headed for the door. Luckily, the guys at the door know us, and we slipped right in, where we met up with Chris & his wife Kelly. When we got inside it was getting full quickly! And it was HOT! It was going to be like old times at The Lost.
Knowing that Hank 3 switches it up at shows, we knew we would be in for a wild show.
As the rest of the crowd funneled into the club we got drinks and made our way as far forward as we could. I was lucky enough to get under one of the air conditioning vents in the ceiling, and the cold air felt GREAT. By the time the show started, the Lost Horizon was elbow to elbow, with very little room for movement. Most of the people smelled like alcohol, weed, and sweat. There were even a few that stunk of vomit from pre-gaming too hard. But that wasn't going to let that stop them. Hank 3 was about to play!
The clock on the stage got to 8:15 and the band came out onto the stage, which was stacked floor to nearly the ceiling with amps and heads, etc., with a cloth hanging down, so you could not see the drummer.
The band launched into their country set and the crowd sang along on many songs. Hank and company played many of my favorite songs of his country stuff, (which was why I was there for the most part), and then moved smoothly from one style to the next from Country to Punk, then to a Nu-Metal style, and finally ending with some really intense Industrial stuff.
In the end, he played for 4 hours and 52 minutes, non-stop! It was one of the longest and most intense shows I have ever seen.At about the 4 hour mark, Dawn and Kelly were exhausted and left to go home. I made arrangements to ride with my good friend Dave Klien.
Honestly, the crowd was ready to wrap up before Hank was. I am sure that if the club would have let them play longer, they would have.
At the end, we got to chat with Hank 3 for a few moments. I had him sign my photobook and got a new pic with him. It was taken with my cell phone, which has no flash. The light came from 3's flashlight.