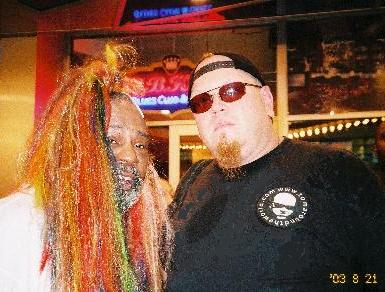 George Clinton with Tom in New York City.
On my recent trip to New York to see the SEX PISTOLS, I got a few unexpected surprises.
After the show, my girl Sarah and I decided to get some food and then walk around Times Square.
On the way, we came to B.B. King's Blues Bar and a huge crowd of people was leaving. I asked a guy with a pass who had played. He told me George Clinton and P-Funk. I asked if the bus parked in front was his and he said yes. I also asked if he would be coming out soon. His reply was, "Yeah, if he wants to go back to the hotel."
I was like: "George loves us, man!" in a really bad Animal House impression. Sarah and I laughed and decided to wait for George to come out to try to get a picture.
There is a saying that if you stand in Times Square long enough, you will bump into someone you know. Well, guess what… It's true.
As we waited for George Clinton, a guy walked up behind me on my right and said, "Blue Tusk."
I damn near wet my pants. I turned around to find this guy called Keegan that is a regular at the Blue Tusk where I work as a bouncer. We chatted for a few and then he left. That was cool being recognized in New York.
Soon, George Clinton came out. I have met George many times and he actually recognizes me when he sees me, though I am sure he doesn't know "why" he knows me. He always says Hi to me and asks how I am. We chatted for a few moments and I got a photo with him and the only autograph that he signed outside. As George was getting into his car, I heard a voice call out, "Tom… Tom Around The World?"