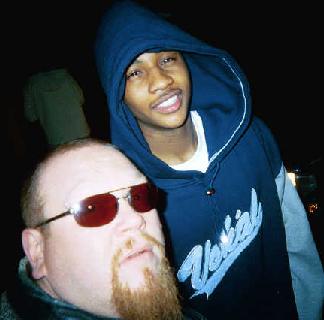 Carmelo Anthony, former Forward of the NCAA 2003 National Champions: The Syracuse Orangemen is living the life only a few dare to dream of.
Originally offered the chance to play in the NBA right out of high school, Carmelo declined because he said it was his and his mother's dream for him to go to college.
The 6' 8", 220 lbs. former Oak Hill Academy player came to Syracuse University and won a starting position in his Freshman year. He scored 27 points in his first game of the season and from there went on to prove that he was one of the best freshmen in the country, if not the best player in the Big East Conference.
Carmelo led the Orangemen to their first ever NCAA Basketball Championship and became the third freshman player in NCAA history to be named the Final Four's Most Outstanding Player.
After his stunning freshmean year, Syracuse fans wondered what would happen with the young star, but they wouldn't have to wait long.
The next morning after the photo on the left was taken, he announced on TV that he would indeed be going to the Big Leagues.
He was selected third in the NBA Draft and will be playing for the Denver Nuggets.
May he have as much good fortune in the NBA as he had at Syracuse University.