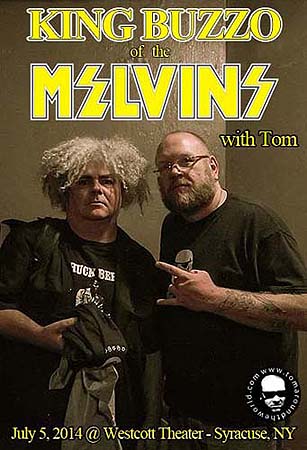 They have inspired many bands including TOOL, (who are friends with the Melvins), as well as Mastadon, and Neurosis.
The band usually plays as a three piece, consisting of King Buzzo, drummer Dale Crover, (both founding members), and different bass players. In more recent years they perform as a four piece band with two drummers.
There is even a version of the band called Melvins Lite consisting of Osborne, Crover, and bassist Trevor Dunn. The Osborne, Crover, Dunn version of the band embarked upon a Record setting tour in 2012. Beginning on September 5th in Ancorage, Alaska, and ending on October 25th in Honolulu, Hawaii, the Melvins played 51 shows in 51 days, with one show in every state in the USA, plus a show in the District of Columbia. Buzz Osborne has colaborated with TOOL, Dave Grohl, and many more. The Melvins also released not one, but two records with music by the Melvins and lyrics by Jello Biafra of The Dead Kennedys (whom my band Born Again Savages were lucky enough to play a show with just two weeks prior). Through Grohl, Buzz was introduced to Kurt Cobain and became the bass player in Cobain's first band called Fecal Matter. In addition, Buzz is a founding member of the band Fantômas with Mike Patton of Faith No More & Mr. Bungle.
In June of 2014, King Buzzo released his first solo release, a 17-track acoustic album on Ipecac Records, titled This Machine Kills Artists. The title is a take off on folk singer & activist Woody Guthrie's "This Machine Kills Fascists", which he painted on his acoustic guitar back in 1940. Even the associated artwork for the tour pays homage to Guthrie.
To some, Buzz playing acoustic may seem as a departure from his usual style. But as the main song writer of the Melvins, Buzz works out most of the bands songs acoustically before making them electric, so it was a natural thing to just release the album that way. And this is a TRUE acoustic album, with no electric guitars, amplifiers, or direct boxes used during recording. It is a chance for Osborne to show off his offbeat, but enthralling, song writing ability, in the raw, with no embellishments.
King Buzzo began his current tour in June in San Diego and will continue around the USA for the summer, before jetting off to Europe and Australia in August and September. Luckily, Syracuse always has a great turnout for the Melvins, so we were included on the solo tour with a date at The Westcott Theater.
Chris Besaw and I arrived at The Westcott Theater just as Buzz pulled up in his big white van. He unloaded his gear and ran through his sound check. While Buzz was doing his check, the tour manager came and got us. As soon as Buzz was done, we headed upstairs to the green room to do our interview. After a false start to the interview, due to nearly dead batteries, we resumed and everything went well.