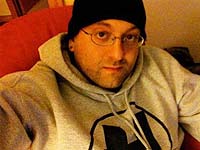 By Greg Allis
www.LiveHighFive.com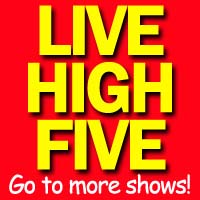 Huntington Beach, California's Avenged Sevenfold invaded the Oncenter War Memorial on May 15, 2014 for a stop on their "Shepherd of Fire" tour. The long-running, genre flipping 5-piece remain a commercial success, equivalent to a modern day Guns N Roses, IMO.
For any of you detractors, I can only say this much: The ravenous crowd of eager fans lined up outside the venue for hours, HOURS, before doors, in Syracuse, all just aching to get in, was something else.
Touring in support of Hail To The King, their latest Warner Brothers Records release, A7X is undoubtedly one of the biggest bands in the world right now. The performance in Syracuse (my first time seeing the group live) was a clear indicator and strong testament as to why. Vocalist M. Shadows, making mention of the group's absence from our area in recent years, whipped the crowd into several frenzies during the performance. For any A7X lifers in the room, he also alluded to past performances at much smaller Syracuse venues (Planet 505 anyone?) during a time when the then-hardcore band often found themselves dodging bodies and encouraging scream-a-longs more than looking down on several thousand screaming fans happy to be in the same room as the band. Patience, Persistence, and Rock n Roll, folks… A7X has it.
The always-awesome twin guitar attack of Zacky Vengeance and Synyster Gates really tells me I should've tried harder to see the band years ago. The interplay between these two, now a well-oiled machine after years of touring and recording, makes the whole endeavor seem effortless. With plenty of confidence and more than enough room for the star posturing, they've also perfected their interactions with the crowd, especially bassist Johnny Christ. Clearly holding down the easiest job of the bunch, Mr. Christ aptly provided every ounce of low-end thump while strutting around the stage like a total boss.
The best part of the evening came from a particularly somber moment, when M. Shadows made mention of drummer Jimmy "The Rev" Sullivan, who passed away a few years back. Touching in a way not often seen by music's commercial elite (until they get their "Behind The Music" special anyway), he explained that A7X leaves The Rev's recorded vocals in the mix, their way of "bringing him with us every night." Thankfully, the group's new drummer Arin Ilejay fits the band to a T, his explosive and energetic performance demeanor radiating during his time on the three video screens, highlighting a wonderfully evil looking stage set up.
Official Site


Official Site